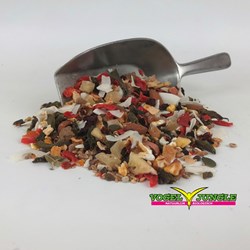 Habitat Galah 2 kg
Product number: 40091
EAN Nr#: 8719747360040
€
24
.
49
Habitat Galah
A great habitat mixture for the Galah, a very wide range of natural ingredients, such as vegetables, nuts and berries with a small portion of seeds, for the rosé cockatoo,
No worries that this mixture is too fat! The years-long expertise of the Vogeljungle has resulted in a wide variety of raw materials being used for this complete diet, so that your rosé cockatoo can absorb everything and meet nutrients!
Just as with the entire habitat line you will also find a bag with stomach grit and oyster grit in the fresh pack, which is necessary for optimal functioning of the gizzard and for the much needed minerals.
The animal protein is also lacking,
No other diet is as complete as the habitat Galah mixture of the Vogeljungle.
The fresh pack ensures that the fresh clean and pure raw materials are optimally protected
Vacuumed 24 months after production date.
Keep dark, cool and dry after opening and you can use this product 1,5 year.
something for you?