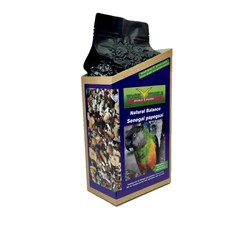 Small parrots Natural Balance freshpack 1.5 kg
Product number:
€
23
.
99
Now available in a freshpack !!
These super healthy small parrots Natural for the small parrot species is such a treat that it is sometimes called candy and is found and eaten in the natural habitat of these species!
​Contains more than 48 ingrediënts and is a balanced mixture full of vegetables, fruit and berries and cocos for smaller parrot varieties such as the senegal parrot, jardine, pionus, etc.!
This unique packaging can be stored for 2 years after the productiondate, after open the package,provided that it is kept cool and dry for 1,5 year on consumer quality.