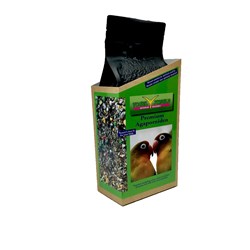 5
1
5

9/6/2018 2:53:48 PM

Ze vinden het heerlijk en doen het er goed op! Perfect product!
Love bird Premium freshpack 1.5 kg
Product number:
€
12
.
45
This special developed, High quality fresh pack premium provides a varied, healthy balanced diet for your Lovebird. It contains only natural ingredients
This mix of soft millets, meats without oils, includes some Carrot, Apple, Peppers etc.
We recommend a protein source as an addition.
Our products have been harvests and are human-grade quality.
All products are scientifically tested for levels of all important nutrients. "
Best before: Vacuum 24 months after production date and (if kept cool and dry) 1 year on consumer quality after opening
something for you?