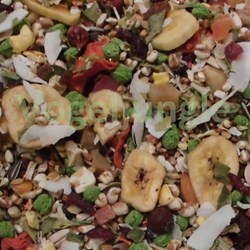 5
1
5

12/13/2016 5:59:08 PM

Perfect! Snelle levering en goed verpakt. Nu 2 keer besteld en bij alle twee een leuk boekje gekregen. Alles is super vers en onze Zonparkiet Odie is er super blij mee!
Habitat South America mixture 2 kg
Product number: PH8001
€
23
.
99
This protein, vegetables, fruits and nuts mix is perfectly balanced for the Australian parrots.
By using habitat Oceania products will parrots (large and small) completely feel at home just like there habitat in Australia.
This mix contains up to 48% of seeds
All our products are from the most recent harvests and are human-grade quality.
They also are scientifically tested for levels of all important nutrients."
store cool and dry, expiry date 12 month, for human consumption,