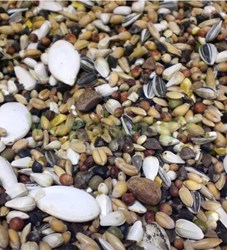 Gold-mix zaad Edelpapegaai 2 kg
Product number: 14155
€
5
.
25
Deze onge-oliede zaadmengeling van topkwaliteit hoeft niet verstopt te worden en zit u in een stevige doorzichtige zijvouwverpakking.
Gold-mix edel is ontwikkeld voor de edelpapegaai en natuurlijk geschikt om te mengen met krachtvoer..
Het vetpercentage is gelijk aan de gemiddelde basisbehoefte van de edelpapegaai of grijze roodstaart en vogels van dezelfde grootte.
Voor afvallen adviseren we een amazonevoeding en na ziekte of voor de zeer aktieve vogel een grijze roodstaart voeding.
Krachtvoer Ca+ is perfect voor edels die een hogere calcium en vit A behoefte hebben dan de meeste papegaaien papegaai
Deze mengeling bevat oa. meer pompoenpitten dan de grijze roodstaart basisvoeding
Mits koel en droog bewaard tenmnste 1 jaar houdbaar op consumentenkwaliteit