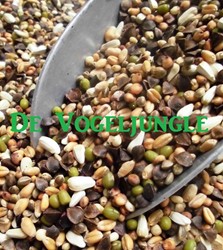 Quick Sprout 2 kg
Product number: 14101
€
7
.
49
Goldmix germination seeds contain katjang, safflower kernels, buckwheat, wheat etc.

These seeds are also not oiled so you know for sure what good quality you have to deal with!
This seed can be used for small, medium and large parrots.
Rinse regularly during winding to keep the product as clean as possible.
The first (dotting) germs appear after 24 hours. Again rinse well until the seeds smell fresh and then you can give about 1 tablespoon to the bird.
Did you know that extra vit E is being created during the welling process? This is important to bring the bird into the right "mood". Does your bird suffer from his or her hormones then we also advise not to feed germination seeds because of the extra stimulus this gives
Of course all seeds are from the last available harvests and from the very highest natural quality.
Best before if kept cool and dry 1 year on consumer quality