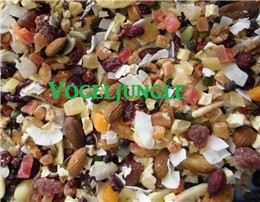 Nut and Fruit Mixture 10 kg
Product number: 22359
€
214
.
45
Bulk package for breeders and large consumers
Vogeljungle have developed, to the highest possible standard, this healthy range "Delicatessen" mixtures wich will provide extra energy for your bird, especially when preparing for breeding.
Fruit & Nut Mixture, containing an array of the best quality ingredients we could find.
The ingredients are: Apples, Apricots, Pineapples, Bananas, Papayas, Rosehips, Juniper Berries, Strawberries, Mountain Ash Berries, Brazil Nut Kernels, Hazelnut Kernels, Walnut Kernels, Almond Kernels, Cranberries, Coconut slices, Macadamia Nut Kernels, Peeled Pumpkin seeds and mango segments.
Suitable for all M/L Parrots.
All our products are from the most recent harvests and are human-grade quality.
All products are scientifically tested for levels of all important nutrients.
something for you?